World wines from Vienna.
.Great individualist with universal Vinophilie. Creativity and internationalism at wine production are the secret for the non-replaceable wine creations of FM Mayer Viticulture. Here you will encounter wines that combine the traditional Viennese wine culture with new taste experiences.
.Big world going small. Franz Michael Mayer brings experience from the New World into the small universe of Viennese wine. FM Mayer Vitikultur is combining the knowledge of European traditions, Franz Michael Mayer earned during stays in German and Alsatian wine regions and their wineries, with fresh ideas he gained at work stations in South Africa and Australia, as well as a number of study tours to Australia, New Zealand & South Africa. These experiences generated visions, which are now tasteable in the wines of FM Mayer Viticulture.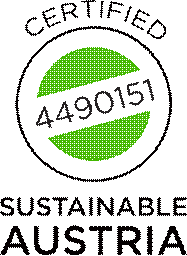 "Sustainable Austria" is a seal of approval for wines produced in a sustainable fashion. They are produced in observance of certain economic, ecological and social criteria, and are closely scrutinised for adherence to these principles. From the harvesting of the grapes, through the élevage of the wine to the bottling, providing fair working conditions and sustainable business practices, the entire production process is critically examined for its contribution to sustainability. Only when all of these requirements are satisfied is a winegrower permitted to label his wines with this seal.