World wines from Vienna.
. Great individualist with universal vinophilia. Creativity and internationality in winemaking are the secret recipe for the unique wine creations from FM Mayer Vitikultur.
.Big world, very small. Franz Michael Mayer brings experiences of the New World into the small universe of Viennese wine. He gained knowledge of European traditions during his stays in German and Alsatian wine-growing regions. He gained fresh ideas at work stations in South Africa and Australia as well as on a series of study trips to Australia, New Zealand and South Africa.
.Viticulture. The term refers to the cultivation of grapevines to produce grapes for wine production. The vinification, i.e. the production of the wine, takes place in the cellar.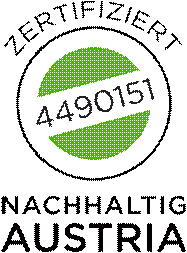 In the certification for sustainability, soil health, promotion of biodiversity, climate friendliness, water consumption, use of energy and materials as well as social and economic competence, but also the wine quality of the winery, are used as criteria. – In a nutshell: The focus here is on the environment, the economy and people.
Certified "Sustainable Austria" by
---
Viticultural visions
I started doing Sémillon for the first time in 1999. I planted the grape variety, which was not in use in Austria until then, in one of the best Viennese vineyards, in the most beautiful south-facing position above an old almond tree. Along with Sauvignon Blanc, Sémillon is the queen of the white wine varieties in France. Sémillon, the variety the Chateau d'Yquem is made of, is anything but a typical variety from the Nussberg.
I am also committed to the autochthonous wine culture and old grape varieties. That is why I cultivate a vineyard that is over 52 years old in the top location of the Unger vineyard since 2005. Above all, Pinot Blanc and my much-loved "Mendoza" Chardonnay grows there. In 2007 I expanded my classic line with a 45-year-old vineyard planted with the variety Neuburger. A year later I bought a nearly 35-year-old Pinot Blanc in Ried Preussen, freshly interspersed with noble Rotgipfler, Riesling & Neuburger vines for the "Wiener Gemischter Satz DAC Nussberg" according to old tradition. In 2010 I bought a 45-year-old Gemischter Satz with Grüner Veltliner dominance in the 1st location of Ried "Langteufel" (Nussberg location). With Roter Veltliner, Rotgipfler, Neuburger, Riesling, Gelber Muskateller & Gewürztraminer. In 2014 my last and very valuable achievement took place: a real old "Wiener Gemischter Satz" from 1960 in the well-known Nussberg vineyard "Preussen"! Since then, FM Mayer Vitikultur has covered around 2.5 hectares of vineyards.
My next (vineyard) project is called "schönin" from my absolutely best location "Goaßkeller" (Nussberg location). This is one of the finest and best French grape varieties. A new challenge! "After all, it is up to the human being to let good arise," is one of my motto.
---
Recommendation of my viticulture
Wein mit Egle 2018 (Egle/Wagner-Wittula):
Selected as one of the best 300 wineries of Austria and Alto Adige.
Vinaria Weinguide 2016:
1 crown (counts to the top wine producers in Austria)
Wein.Plus.eu wine guide
W+ (one of the best producers nationally)
Weinguide 2016 Egle/Wagner:
Selected as one of the best 300 wineries of Austria and Alto Adige.
Weinguide 2017 (Wagner/Egle):
Selected as one of the best 300 wineries of Austria and Alto Adige.
Weinguide 2015 Wagner/Egle:
Selected as one of the best 300 wineries of Austria and Alto Adige.
Assortment
---
Viticulture in the media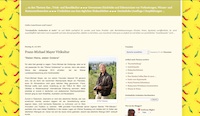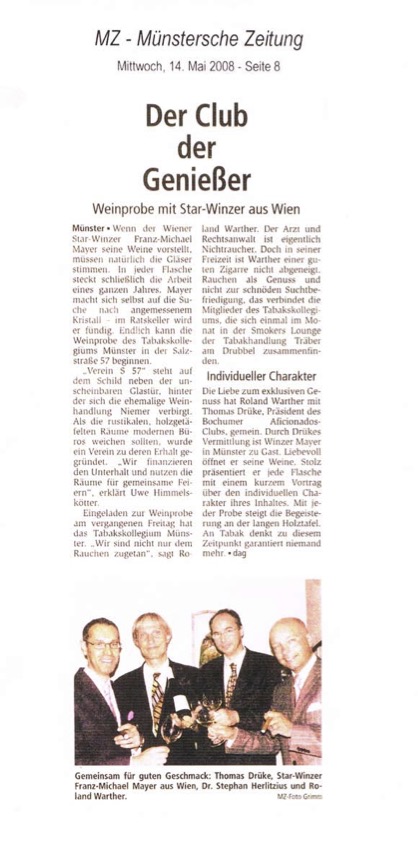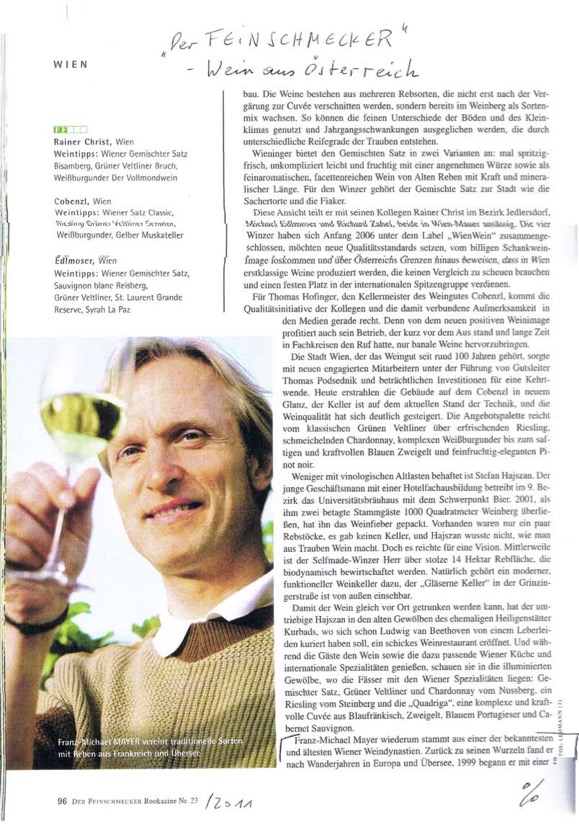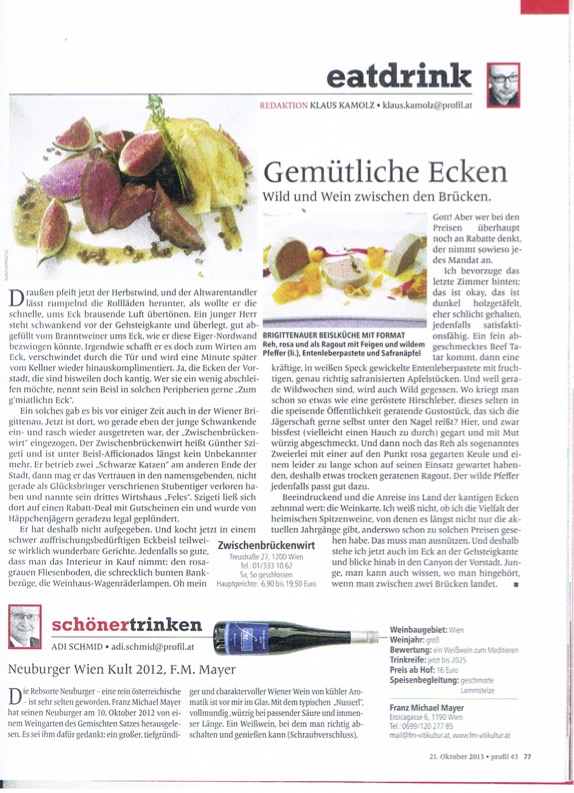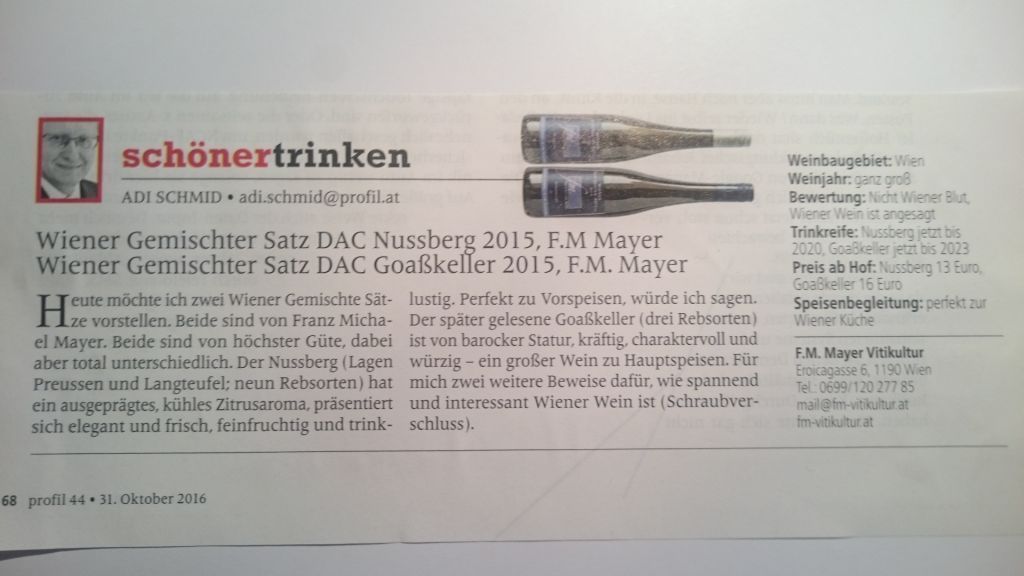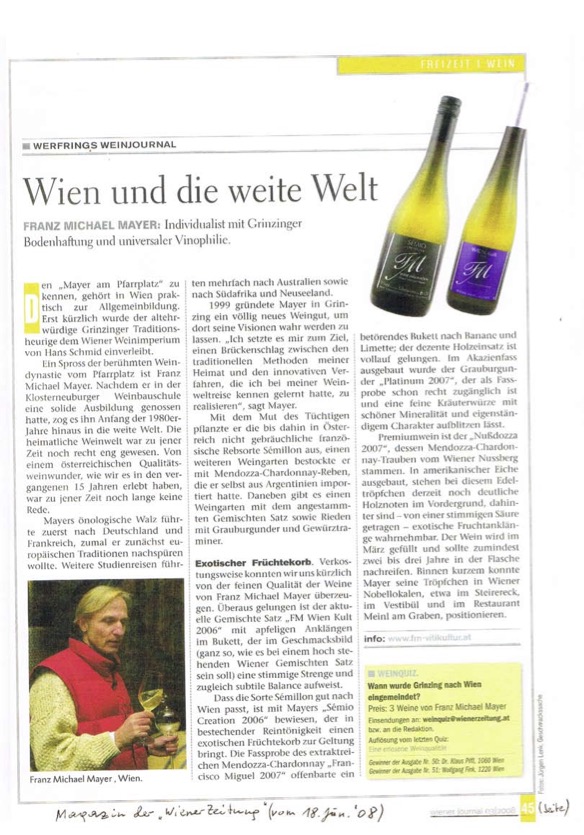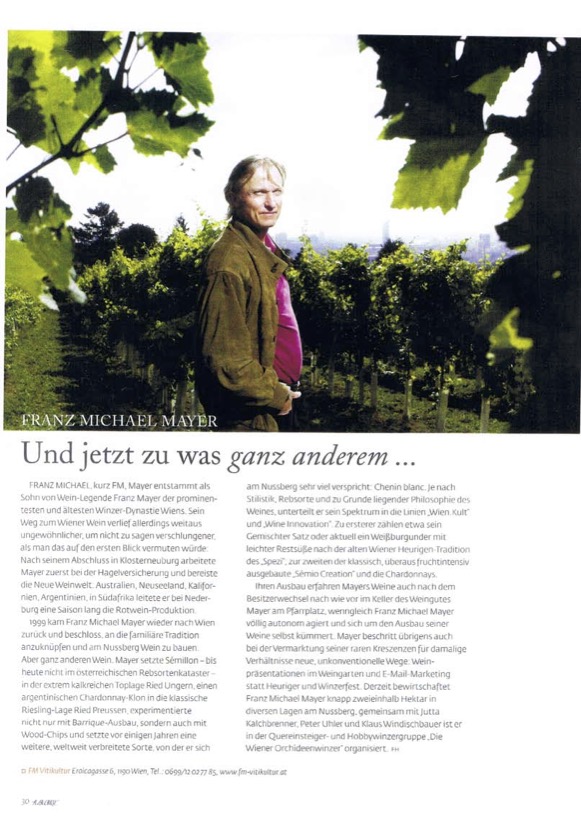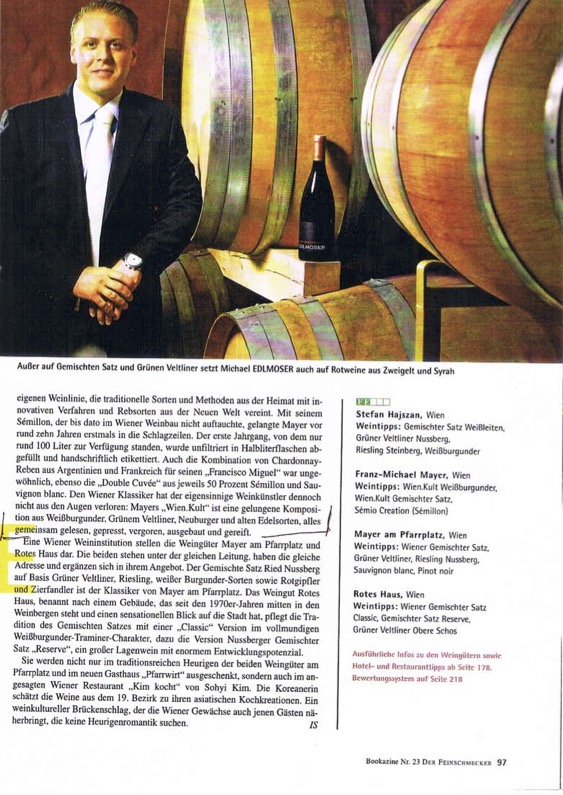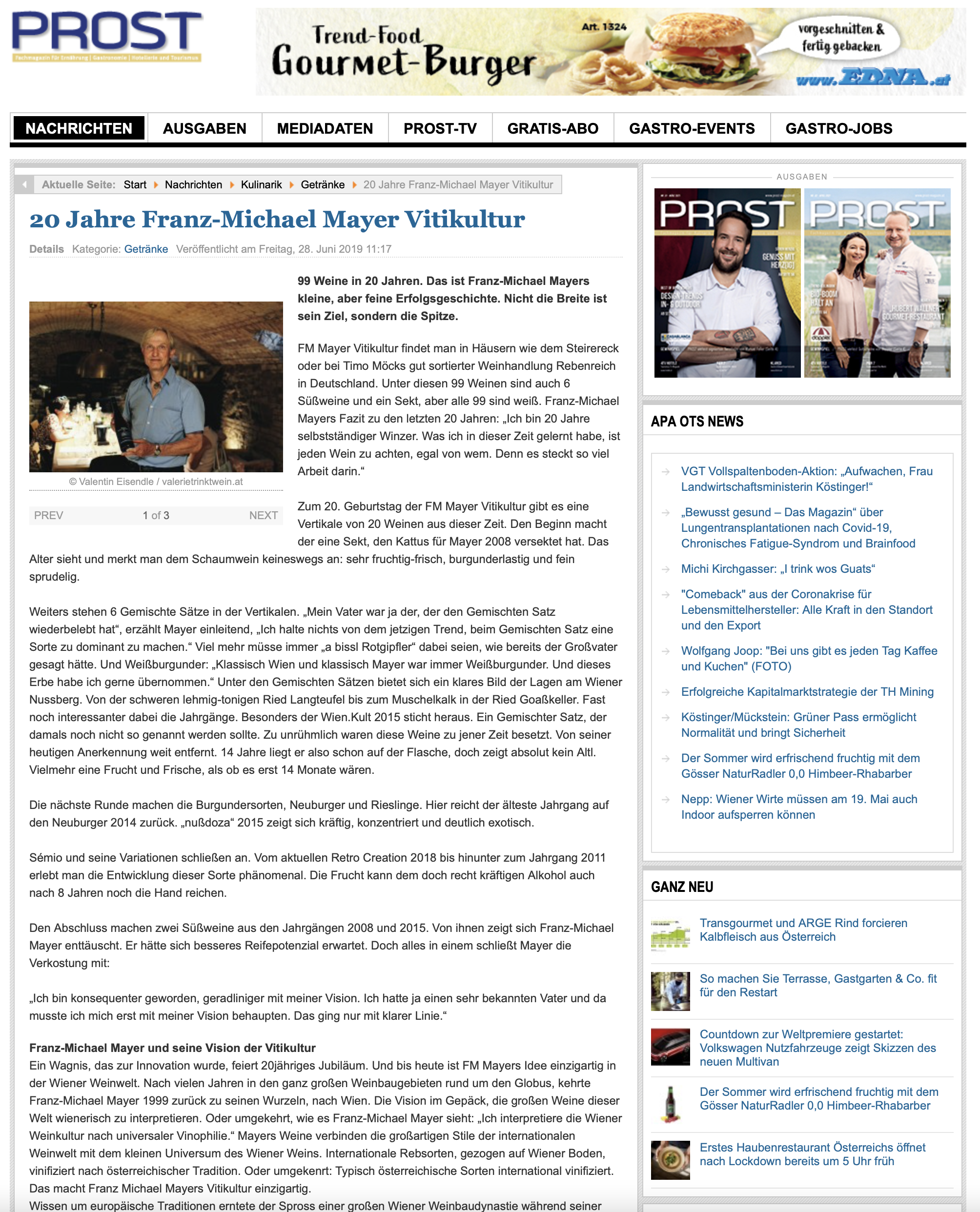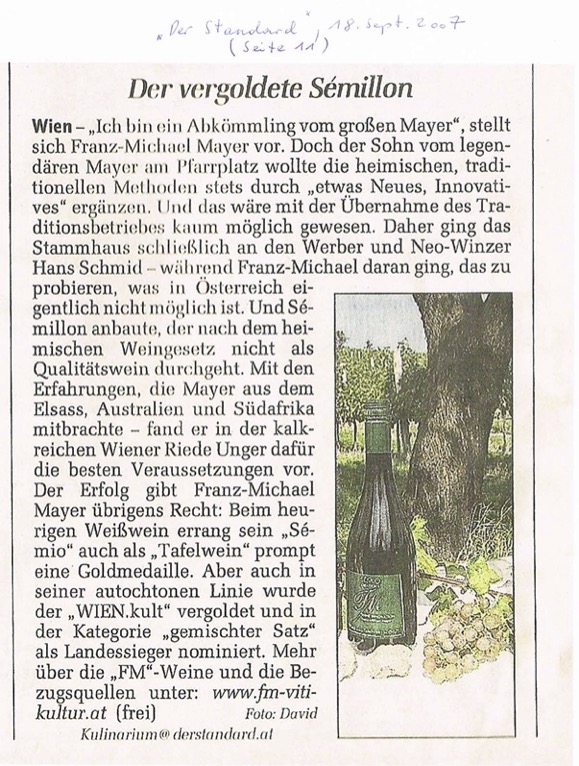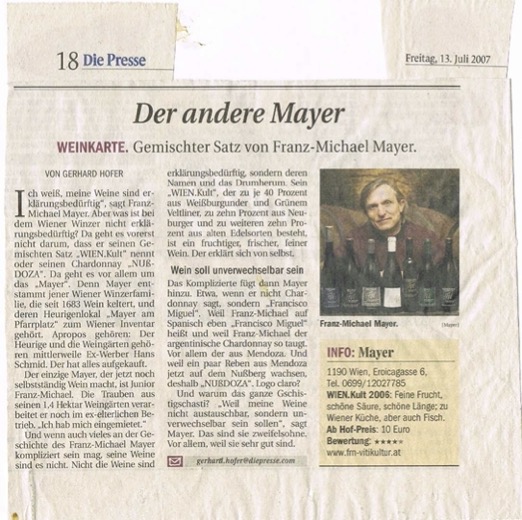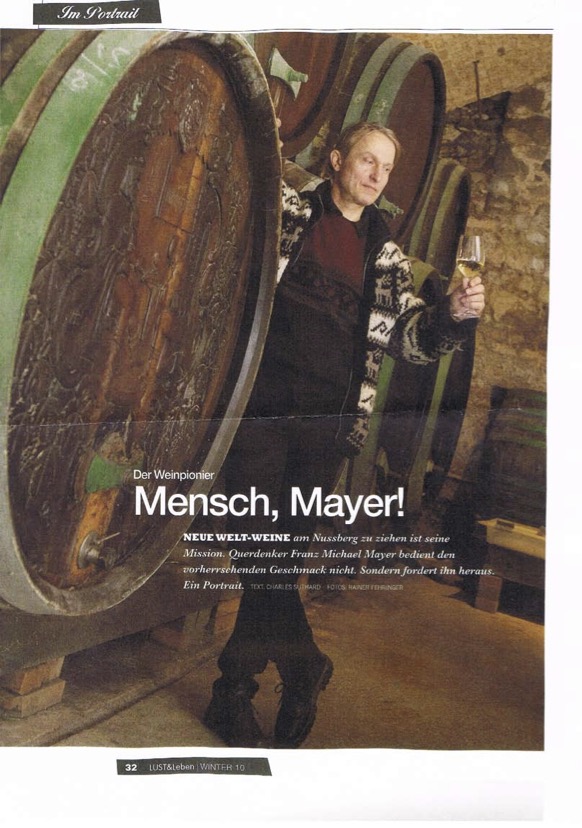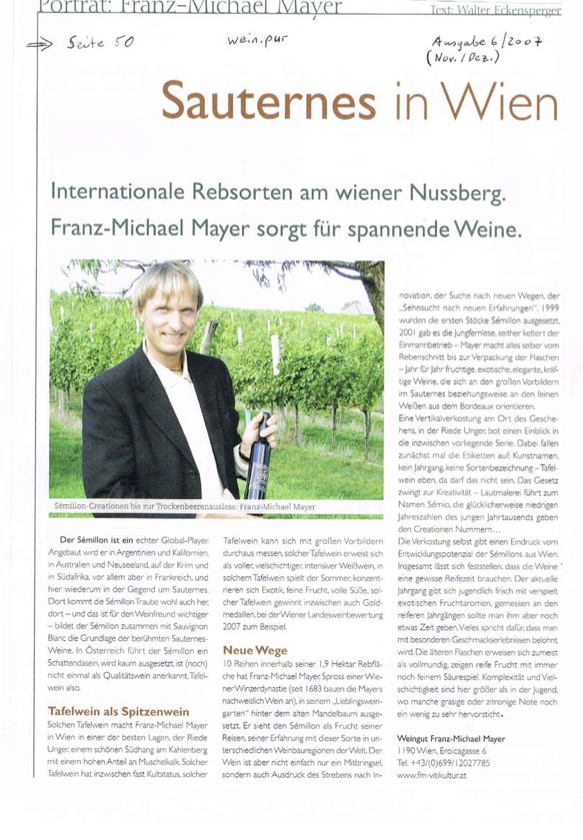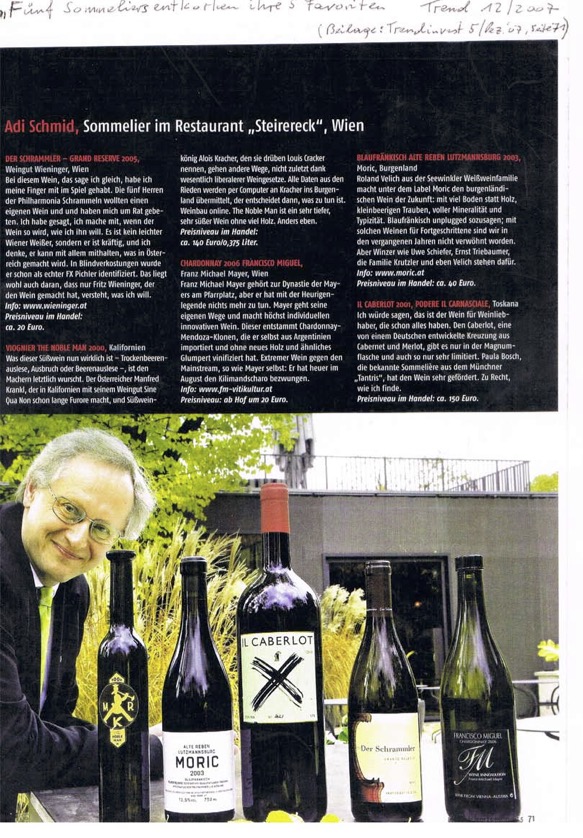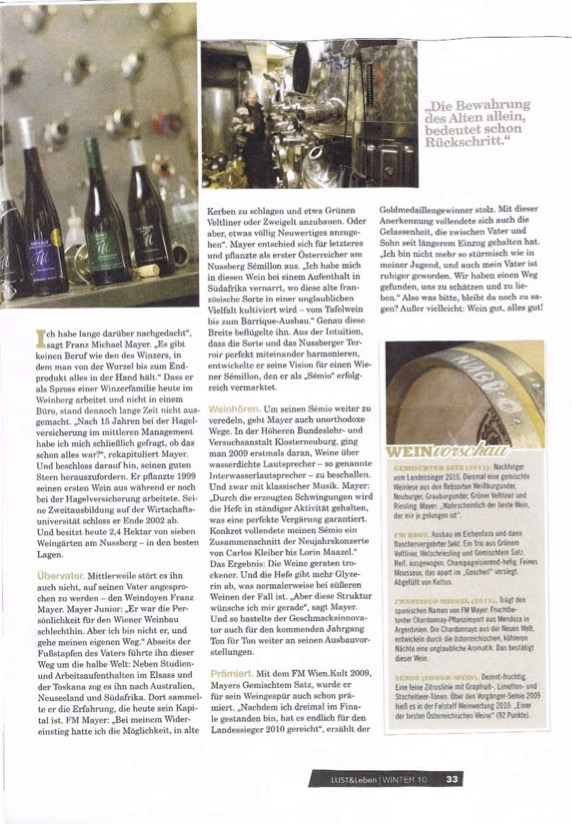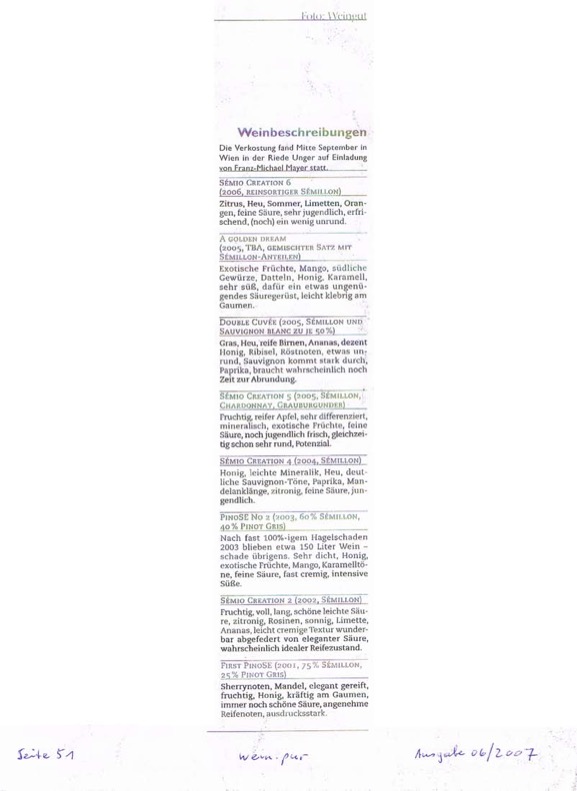 ---
Impressions
---
Contact
FM-Mayer.Vitikultur
Franz-Michael Mayer
Eroicagasse 6
A-1190 Wien
fon: +43 (0) 699-12027785
e-mail: fm-vitikultur@gmx.at
Internet: www.fm-vitikultur.at