The ultimate & my noble line!
The greatest wines do not grow every year and require not only technical skill, affection, emotion, but ART.

FM MAYER
---
fm & tm *nußdoza (Chardonnay) 2o2o:
Alcohol content 14 % by vol., dry.
The name NUßDOZA stems from an ideal terroir for Chardonnay (the famous Viennese NUßberg) – combined and bottled with fully ripened MenDOZA-Chardonnay grapes from Argentina, which I myself planted and vinified. NUßDOZA was picked on Oct 18 and aged in American oak (300 l) for 6 months, which gives it its fragrant bouquet of banana, toasted almonds and an exotic nose. A wonderful bodied structure on the palate, marzipan and a fresh play of flavours and acidity – enjoy the unforgettable finish of this simply rare white wine named "NUßDOZA". – The ideal accompaniment to steaks, patés, carpaccio, cheeses and desserts like "Kaiserschmarrn". Also perfect for drinking on its own (enjoy and serve at about 13°C).
Prices: Please ask (unfortunately not available anymore for this vintage).
Tasting notes fm & tm nußdoza
nußdoza (Chardonnay) 2o18:

GENUSS wein.pur Guide 2019/20: 4 of 5 glasses
---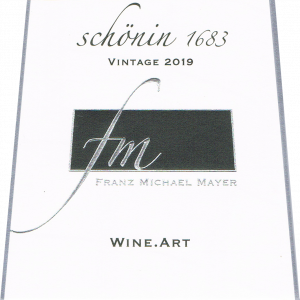 schönin *1683 (Gemischter Satz)vintage 2o19
Alcohol content 14,5% by vol., dry.
A Viennese Gemischter Satz ("Cuvée") of the modern ART made from 80% SChönin Blanc, 10% Mendoza-Chardonnay, 5% Grüner Veltliner, 5% Neuburger.
The vintage from my youngest and most beautiful vineyard! These grapes were grown on shell-limestone soil which is millions years old, were harvested on Oct 17 and 40% of which were aged for 4 months in best "Bertranges" Burgundy oak. – Fantastic texture, very concentrated combined with a new adventure of flavours: Exotic fruits and a noble toasted bouquet in the nose; tropical flavours such as lemongrass, kiwi, ripened banana and starfruit on the palate.
This wine is delicious on its own, but pairs well with a variety of fine food. I enjoy it with Mediterranean and Creole cuisine along with Viennese "Tafelspitz" and cheese (enjoy and serve at 12O C).
* Family Mayer has been situated in Vienna since 1683. – The outstanding wine-creation "schönin" is the latest addition to my wine-range!
Prices: Please ask. (unfortunately not available anymore for this vintage. Orders for vintage 2021 warmly welcomed.)
Tasting notes schönin 1683
schönin 1683-vintage 2o19:

Wiener Landesweinprämierung (Wine awards of the county of Vienna) 2021: Gold
GENUSS-Weinguide 2020/21: 5 of 5 glasses (95 to 100 points).
Döblinger Bezirksweinkost 2020: 1. Platz

schönin 1683-vintage 2o17

wein.pur GUIDE 2018: 5 of 5 glasses
Wiener Landesweinbewertung 2018: Gold